A Tribute To My Father:
Oct. 31, 1915-Jun 18 2005 (obituary)
Evening In Paris Orchestra
Trumpets: Left to Right-Harry Gluck, Phil Cappocatto, Chris Griffin; Trombones: Larry Alpeter, Roland Dupont, Phil Giardino; Reeds: Willie Fisher, Floyd Tottle, Artie Matterrazzi, Al Howard, Hub Lytle; Bass: Sam Schoobie; Harp: Pearl Chertok; Strings: Solly Deutsch, Irving Praeger…
Young Man With A Horn

Chris Griffin

3:22

Blow Gabriel

Chris Griffin

2:53

Drum Boogie

Chris Griffin

2:44

The Things I Love

Chris Griffin

3:39

Eight To The Bar

Chris Griffin

3:16

Sweet & Lovely

Chris Griffin

2:21

Toot That Trumpet Mr. Chris 10/28/41

Chris Griffin

2:57

Laura 05

Chris Griffin

3:42

Isn't It Romantic

Chris Griffin

3:32

Boy Meets Horn-VDisc

Chris Griffin

3:55

I Cover The Waterfront-VDisc

Chris Griffin

2:27

You're Blase-VDisc

Chris Griffin

3:01

Sign Off

Chris Griffin

1:08
AMERICAN MASTERS-Interview of CHRIS GRIFFIN
"the best trumpet section of all time" said Duke Ellington in an interview that aired on the BBC.
"What do you feed those trumpet players? Raw meat?" Said Harry Glanz, Principal Trumpet with The NY Philharmonic.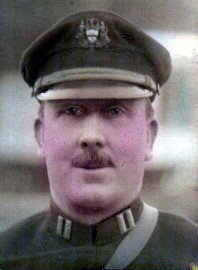 Chris left Benny in 1939 to raise a family with a young singer he had met from The Tommy Dorsey Band; Helen O'Brien. Helen, (most certainly destined for Hollywood) was dating "Tommy" when Chris spotted her and commented to Harry James (who enthusiastically supported Chris' ardor) that he "was going to marry that girl!" And, that prophecy came to pass. However, Chris & his young bride spent their wedding night in the confines of a police constabulary. Chris neglected to ask, and Helen neglected to proffer that her father was a captain in the Philadelphia police force! When informed that his "Sunshine" had ELOPED with a musician! Captain O'Brien, (like fathers everywhere) immediately put out an alarm that resounded from the extremities of the known universe. Helen and "Chris" were apprehended in the state of—————Delaware! (This served as my father's introduction to my maternal Grandfather, George A O'Brien.)
Chris was one of the pioneers of television as he performed with The Ray Bloch Orchestra on The Toast of the Town, which ultimately became The Ed Sullivan Show. Also the shows of Kate Smith, Milton Berle, Patti Page, Eddie Fisher, Gary Moore, (Carol Burnett) Frank Sinatra and Jackie Gleason, (Where his trumpet obbligato on the theme became synonymous among musicians and entertainers) the list goes on.
Snooky Young; Doc Severensen; Chris Griffin (Click on "drop-down menu" for selection)
After sixty-four years of harmonious marriage, Helen (as sweet and wonderful a lady as ever became mortal) passed away on July 23, 2000. She was music itself! …The rhythm of life, the harmony of family and friends, and the melody that lingers on. She truly loved to sing and dance and her last words to me were, "don't be sad, I'm going to dance in heaven with the O'Briens." (If ever the unacceptable could possibly be made palatable) I could only respond, "you most certainly are, mom! I Love You!"
After Mom passed away, Dad came to live with us at The Griffin House, and at my request, he recorded his memoirs into a digital recording device. I edited the recordings and after organizing them onto cd's, they were sent to Warren Vache' Sr., who transcribed them for a published book: "Sittin' In With Chris Griffin" a reminiscence of radio and recording's Golden Years. Currently, I'm working on a DVD combining video and audio recordings of the life and times of a studio musician. It will include excerpts from his recorded memoirs, family video, and archive footage from classic videos. That should keep me busy!
Those who ventured to The Griffin House in Jeffersonville, NY were both treated and captivated by the music and the history that was so pervasive, and compelling. Paul & Irene had successfully incorporated their own family identity into the local history of Jeffersonville, and The Griffin House was awarded the Star Of The Industry-2006 by New York State Hospitality & Tourism Association. Paul (also a trumpet player) was nominated as Tourism Executive of the Year, for his community involvements.
You will find Chris mentioned in the biographies and auto-biographies of: Frank Sinatra, Mel Torme', Benny Goodman, Harry James, etc.